Toughened Glass Manufacturers in Punjab – Toughened glass is the type of glass that is most commonly used in different forms of architecture. After exposing to heat or treating with chemicals to make it stronger, toughened glass strength can be four to five times the strength of regular annealed glass, which makes it perfect for architectural use. Mirage Glasses is the best and leading Toughened Glass Manufacturers in Punjab.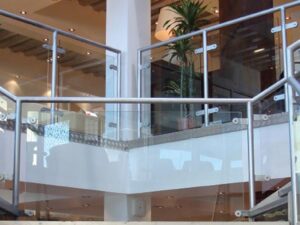 Our company deals in a wide range of glass products that serve different purposes. Toughened glass is one of our most selling products, as the demand for this particular glass is rising over the past few years. As toughened has several great properties and benefits, most people prefer using this glass in their homes and offices.
Toughened glass properties mainly include the ability to withstand great temperatures and differentials, as well as breaking into small blunt pieces if the glass breaks. This the reason why it is usually known as toughened safety glass. So, if you are looking for the best-toughened glass manufacturer in Punjab, then Mirage Glasses will be an ideal choice.
For more information regarding our products and services, feel free to call us at +91 9779084499, or you can email us at info@mirageglasses.com.
Use of Toughened Glass in Modern Architecture
Glass features included in the building's structure have become very popular over the past few years. With everything from toughened glass doors to shelves to entire toughened glass floors, it can be customized into several modern homes and commercial buildings. Basically, toughened glass is a thick glass that can easily handle heavier loads.
However, rising safety requirements and advancement in laminating technology have led to the wide use of laminated toughened glass. In this case, multiple sheets of toughened glass are bound together with lamination materials. This can enhance safety and strength while cutting down on the thickness of toughened glass.
Where to Use Toughened Glass or Safety Glass:
All glass doors, no matter whether they are fully or partially glazed.
All glass windows from the finished internal floor, which should be up to a height of 1500 mm.
Any door side panels or any type of window within 300mm of the door.
Apart from the mandatory requirements, both toughened glass suppliers and manufacturers have also seen a great rise in the demand for customized toughened glass for projects. As architects make every effort to achieve a unique appearance without compromising on material quality and safety. Here are some things where people mostly use toughened glass:
Facades – Several modern offices include toughened safety glass facades. It not only look attractive but also maximize the use of natural sunlight that automatically decreases energy usage.
Glass Doors – Any particular standalone glass structure without a frame can be made out of a toughened safety glass. And, the door is the most common example of it. You can also add frosting for more privacy or can leave it clear to maintain visibility. This is the reason why they are used for everything from shower cubicles to storefronts.
Balustrades and Handrails – Glass balustrades and handrails are other great examples of frameless glass structures. They mainly offers additional safety on balconies and staircases. Toughened glass provides a more attractive look as compared to regular glass materials.
Lift and Elevators – Glass lifts and elevators have been around for several years, but now they are considerably safer. This is all due to the use of toughened glass. As this particular glass is robust and sturdy and can withstand heavy loads.
Store Windows – The use of Toughened glass for store windows is common. Because of its anti-theft properties and a lower risk of injury. In fact, several modern storefronts are now using complete glass facades, as they offer additional natural sunlight and enhanced visibility.
Skylights – Surprisingly, toughened safety glass is not a legal requirement for skylights. But, the use of toughened glass is must, especially if there is a risk of debris falling on it, such as from taller construction or trees.
So, you can use toughened safety glass in these items because of their great properties and functionality. Toughened glass is one of the best choices of architects for designing modern buildings.
Why Choose Mirage Glasses as Toughened Glass Manufacturers in Punjab?
Mirage Glasses is the best and leading Toughened Glass Manufacturer in Punjab. Our company manufactures the best quality toughened glass or safety glass that can be used for different applications. Toughened glass offers several amazing benefits, this is the reason why it is our most selling glass product. We can customize the toughened glass as per the client's requirements.
So, if you are looking for the best Toughened Glass Manufacturers in Punjab, then Mirage Glasses will be the best option that you can make.
Contact Details
Name – Mirage Glasses
Address – SCO 12, Second Floor, Madhya Marg, Sector 7C, Chandigarh
Contact No. – +91 9779084499, +91 9041811811.