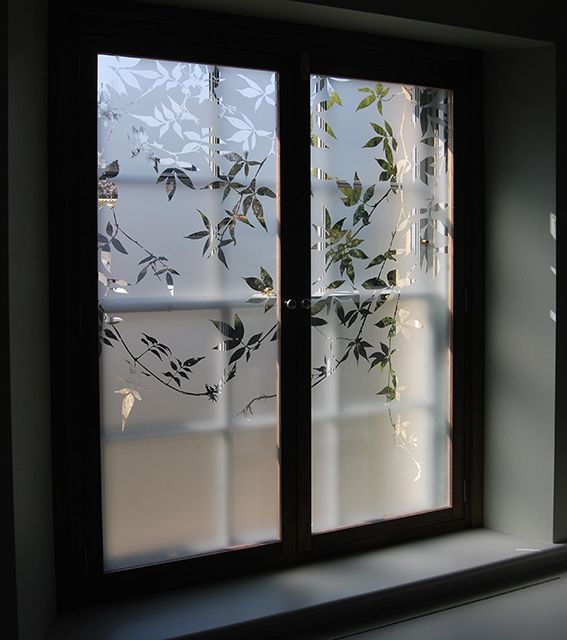 SAND BLASTED ETECHED & FORSTED GLASS
Decorative glass of the nineteenth and twentieth centuries was sometimes put through a process of 'etching' to produce a frosted pattern. Etched glass is the result of intentional and often artistic carving of the surface of glass to leave a white, frosted finish. This technique is used to create designs on the glass.
Etching refers to the technique of creating art on the surface of glass by applying acidic, caustic, or abrasive substances. Etched glass can be found in a wide variety of decorative contexts, including glass doors and windows, furniture, wine bottles, and serving dishes. The skill of the artisan etching the glass will determine the quality and detail of the resulting piece.
There are three ways to create a piece of etched glass:
1. Sand-blasting
2. Acid-etching
3. Chemical etching
Sandblasting
Sandblasting is the act of shooting an abrasive material, such as sand, at a piece of glass. There are three other types of sandblasting techniques: Carving, shading, and surface etching. A combination of all three techniques can also used.
Acid etching
Acid etching uses an acid resistant material to cover areas of the glass that the artist wants protected. Hydrofluoric acid is then applied to the glass to produce the design.
Chemical etching
Chemical etching is another way to produce etched glass and is normally what is found in glass etchingkits. Just as in sandblasting, a stencil is used to protect the glass where the etching effect is not desired. Instead of an abrasive, however, a chemical cream is applied to the glass. It is this etching cream that produces the final frosted effect.
Acid etching can create the same appearance as sandblasted glass. One of the major advantages of acid etching over sand blasting is that it can be done simply and without as many tools. A frosting effect can also be achieved using different strengths of acid etching compounds.
Where to Use Frosted Glass ?
Frosted glass is ideal to use anywhere you would use traditional glass, but desire more privacy or design. Here are some ideas for using frosted glass:
• Shower Doors
• Office partitions
• Shelves
• Cabinet glass
• Glass art
• Glass table tops or table covers
• Product displays
• DIY projects or crafts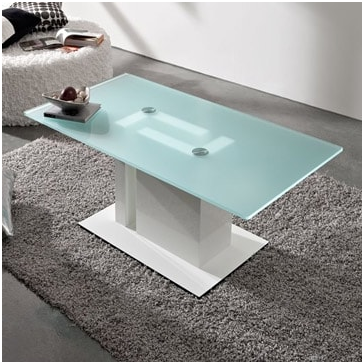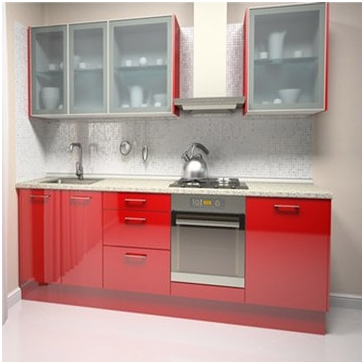 Frosted Glass Custom Options
You can customize your frosted glass just like any of our other custom glass. Here are a few things you need to know about your new frosted glass:
• You can customize the shape, size, thickness, edge type, corner types and even whether you need an umbrella hole in the center.
• You can choose to have your frosted glass tempered for extra strength and durability.
• Your frosted glass is manufactured right when you place your order for fast delivery. You'll get your custom frosted glass order within 5-7 business days.
FREQUENTLY ASKED QUESTIONS ?
SANDBLASTED GLASS
1SANDBLASTED GLASS: WHAT IS IT?
This is a method of creating opaque glass
2HOW TO SANDBLAST GLASS
The surface of the glass has sand fired at it at high speed from a machine, creating abrasions which cause a frosted effect. Opacity varies depending on the pressure of the sand. Unfortunately, the process can remove up to 2mm from the surface of the glass, which makes the glass weaker and more susceptible to cracking.
3CAN SANDBLASTED GLASS GET WET?
If sandblasted glass becomes wet, this makes it transparent and unsuitable for privacy.
4IS SANDBLASTED GLASS PERMANENT?
Yes, sandblasted glass is a permanent effect.
ACID ETCHED GLASS
1ACID ETCHED GLASS: WHAT IS IT?
Glass processed to have an opaque, frosted look.
2HOW TO ACID ETCH GLASS
Acid etching involves applying an acid-based solution which 'eats' away at the smooth surface of the glass.
3USES OF ACID ETCHED GLASS
This technique is best for creating smaller, decorative items like vases, mirrors, or glassware.
4IS ACID ETCHED GLASS PERMANENT?
Yes, acid etching is non-reversible. Unfortunately, the process can weaken the glass, making it vulnerable to damage from extreme temperatures.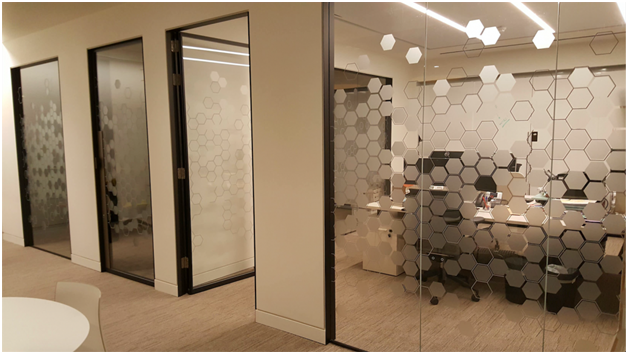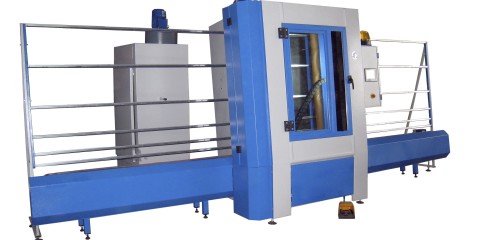 FROSTED WINDOW FILM
FROSTED WINDOW FILM: WHAT IS IT?
A sticker that produces the opaque glass effect without causing damage to the glass itself, offering a range of patterns, designs, and opacity levels to choose from. You can even design your own. It's quick and easy to install, without any mess or dangerous chemicals, and it provides UV protection and insulation.
DOES FROSTED WINDOW FILM RESIST WATER?
Frosted window film is resistant to moisture inside and out, lasting for many years.