LAMINATED GLASS
Laminated Glass is two or more panes of glass with one or more layers of PVB (Polyvinyl Butyral) sandwiched between them and treated. In case of glass breakage, the glass fragments remain adhered to PVB film reducing the risk of injury. This glass is also called Security Glass.
Distinguished Features:
SAFETY & SECURITY
Laminated Glass usage offers high safety & security as it has low chances of injury since the PVB (Poly Vinyl Butyral) interlayer holds the glass pieces together even in case of breakage. It is ideal for use in skylights and balustrades
SOUND REDUCTION
The sound damping quality of PVB layer, due to its' visco elastic property, make laminated glass an effective sound control product. Laminated Glass is used to keep away unwanted noise.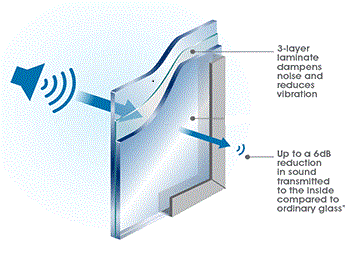 UV REDUCTION
Laminated Glass can block over 99% of the UV energy while allowing most of the visible light through and this can help long last valuable household items and save them from fading effects of UV radiation.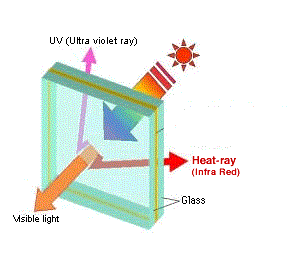 SIZES AVAILABLE:
Max:    2440 MM x 3660 MM (8' x 12')
Min:    305 MM x 305 MM (1' x 1')
Glass Thickness:  Any glass combination like 4+4, 5+5, 6+6 and so on
Layer Thickness:  0.38 mm, 0.76 mm, 1.14 mm, 1.52 mm or according to need
Variants: Clear, Tinted, Reflective, Low E
Standard Used: IS 2553 Part 1 and FOSG Manual
WHY MIRAGE
State of the art facility with Experienced Staff
Toughened, Laminated and Insulated Glass available under one roof
Best Quality European film TROSIFOL is used
Supplies to Airports
Best Quality at Economical Price
Fast Grievance Redressal System
GENERAL CHARACTERISTICS OF LAMINATED GLASS:
| | | |
| --- | --- | --- |
| Sr. No. | CHARACTERISTIC | DESCRIPTION |
|  1 | Safety | Approved as Glazing Material for High Rise Buildings, Canopies, Balustrades and Walkways |
|  2 | Site Alterations | Not Possible |
|  3 | Optics | Distortion permitted as per Standard Used |
|  4 | Flatness | Slight bow & Corrugation is present as per Standard Used |
|  5 | Spontaneous Breakage | Rare |
APPLICATIONS OF LAMINATED GLASS
Canopies
Skylight
Facades
Walkways
Airports
Sound Studios
Museums
Automotive
Staircase
Balustrades
Places where public safety is of utmost importance
CONTACT US
Contact us in order to get the best technical suggestion on glass usage for your Home, Office, Factory, Villa or place of your choice
You can reach us by mail, mobile, through our dealer network, personal visit