INSULATED GLASS
Insulated Glass is a pre-fabricated unit made of two or more glass panes, which have been separated by an air gap and edge sealed together. This is also known as Double Glazed Unit (DGU) or Insulated Glass Unit (IGU). The two panes of glass are kept separated by a hollow aluminum tube spacer filled with a moisture absorbing material (desiccant) and is hermetically sealed. We, at MIRAGE, also make Triple Glazed Glass and Step Glass for Step Glazing.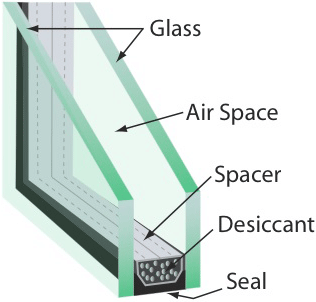 Distinguished Features:
INSULATION
It saves on heating and cooling by reducing air to air heat transfer. The enclosed layer of air makes the insulating capability about twice that of monolithic glass, because of this, the load on air conditioner is greatly reduced. The use of heat absorbing or heat reflective glass will further reduce the load on the cooling system.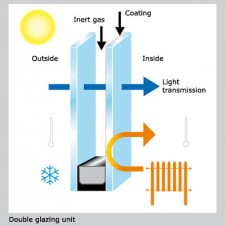 PREVENTION OF DEW CONDENSATION
With the use of monolithic glass, the temperature difference between the outside and inside of a room will often lead to condensation on glass resulting in obstructing the outside view from the room. However, with the use of Insulated Glass, the insulating effect of the air layer makes it difficult for the glass to become cold and is consequently harder for dew condensation on glass.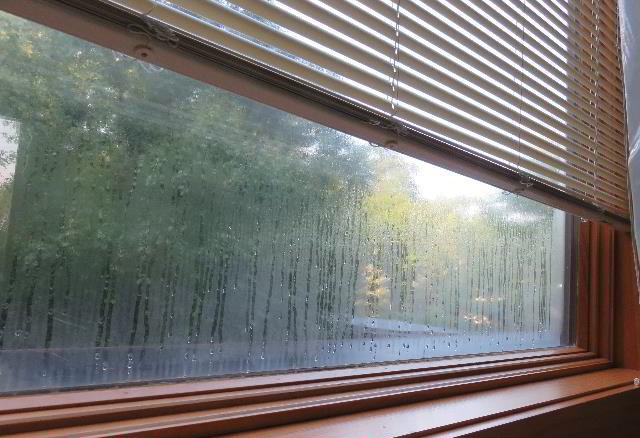 RETARDS SOUND TRANSMISSION
Insulating Glass can significantly reduce the noise pollution entering from outside. The amount of sound reduction depends on the combination of the Insulating Glass. Using one of the panes as Laminated Glass will drastically reduce sound transmission.  Using dissimilar thickness of glass panes will also help combat noise.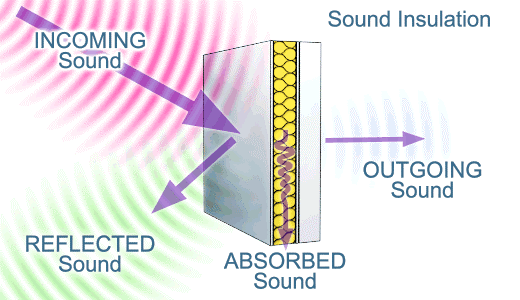 PLEASANT ROOM TEMPERATURE
It offers increased personal comfort and aids in energy conservation. Because of its high insulation properties, the lack of cold or warm droughts leads to a pleasant internal environment.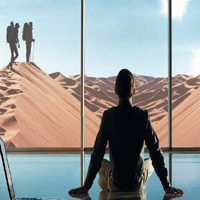 VERSATILITY
Enables the Architect to use the larger Glazed area and use different glass combination to make the window of his choice technically and aesthetically great.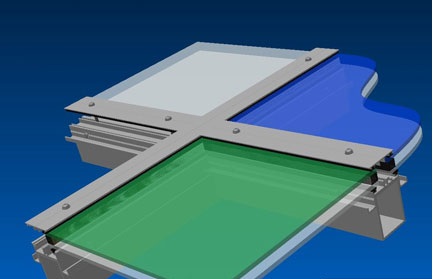 SIZES AVAILABLE:
Max:    2440 MM x 3660 MM (8' x 12')
Min:    305 MM x 305 MM (1' x 1')
Glass Thickness:  Any glass combination like 4+4, 5+5, 6+6 and so on
Air Layer Thickness:  6, 8, 10, 12, 15, 16, 18, 19 and 24 MM
Variants: Clear, Tinted, Reflective, Low E
Standard Used: FOSG Manual
WHY MIRAGE
State of the art facility with Experienced Staff
Toughened, Laminated and Insulated Glass available under one roof
Availability of Step Glass
Availability of Triple Glazed Glass
BEST quality Silicone is used
Best Quality at Economical Price
Fast Grievance Redressal System
GENERAL CHARACTERISTICS OF INSULATED GLASS:
| | | |
| --- | --- | --- |
| Sr. No. | CHARACTERISTIC | DESCRIPTION |
|  1 | Safety | Used as Glazing Material for High Rise Buildings |
|  2 | Site Alterations | Not Possible |
|  3 | Optics | Distortion permitted as per Standard Used |
|  4 | Flatness | Slight bow & Corrugation is present as per Standard Used |
|  5 | Spontaneous Breakage | Can occur |
APPLICATIONS OF INSULATED GLASS
Skylight
Facades
Airports
Sound Studios
Railways
Windows
Commercial Freezers
CONTACT US
Contact us in order to get the best technical suggestion on glass usage for your Home, Office, Factory, Villa or place of your choice
You can reach us by mail, mobile, through our dealer network, personal visit